Hey there Juice readers! I am so excited to be doing my first blog swap with Leslie from Night Owl Crafting. Be sure to check out Leslie's fabulous blog and show the girl some love!
Happy Wednesday!

I am so excited to be blog swapping with Becky today!
My name is Leslie and I am the creator of
Night Owl Crafting
!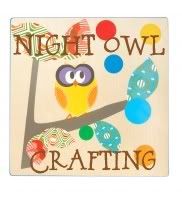 Unfortunately I do not have the privilege of being a stay at home mom, so all my projects are done late at night or on the weekends. I do love my job though, I am a Special Education teacher at the high school level. My degree is really in Elementary Education, hopefully I will be able to teach those cute little snotty nose kindergartners. (No offense to kindergarten parents) Being a kindergarten teacher would be one of my dream jobs! Anyway I have two sweet kiddos, Brock is 7 and Jaylee is 1. I am married to my sweetheart Jason who I met online (shh don't let him know I told you that). So enough about my personal life, let me show you my crafty life!
I started Night Owl Crafting, because my personal blog was being taken over by crafts instead of my children and family events. I have only had it for 3 months and I have a confession to make...I am addicted! My husband wants to send me to craftaholics anonymous! Let me give you a little taste of my blog. Here are a few things that I have been working on lately.

These are just a few of my latest projects! I would love for you to come stop by my blog. I have a link party every Wednesday called "Hoo's Got Talent?" so come join the party every week. I want to say thanks to Becky for letting me take over her blog for the day. I absolutely adore her cute blog. Also thanks to all of you for taking the time to read this post and I hope to see you over at Night Owl Crafting!