With Spring just around the corner I thought it would be nice to get my house organized. If your like me I start in one place and find myself getting lost in another place and before you know it I am trying to organize three places at once and eventually getting completely overwhelmed so I give up. Sound familiar?
I stumbled upon one of those blogs that you can't stop looking at and realize after a while that you've been on that same blog for over an hour?! She breaks down the organization process in 21 days! For me it seems like this is what will work for me! Are you going to take the challenge?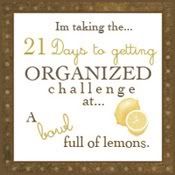 21 DAY ORGANIZING CHALLENGE
Join the Challenge (at any time)
Day 1 - Junk Drawer
Day 2 - Computer Desk
Day 3 - Tupperware Cabinet
Day 4 - Linen Closet
Day 5 - Under kitchen sink
Day 6 - Dresser Drawers
Day 7 - The Pantry
Day 8 - Coat Closet
Day 9 - Toy organization
Day 10 - Laundry Room
Day 11 - The Freezer
Day 12 - Spice Cabinet
Day 13 - Medicine Cabinet
Day 14 - Under bathroom sink
Day 15 - Medicine/Vitamin Storage
Day 16 - The Fridge
Day 17 - The Mail
Day 18 - Keepsakes
Day 19 - Master Closet
Day 20 - Photos
Day 21 - You pick!
Make sure to visit her blog and check out before and after pics of her organizing!